All resources
Cooling at COP26: What did and didn't happen?
Cooling at COP26: What did and didn't happen?
With COP26 now behind us, we wanted to take a step back and look at what cooling commitments were (and weren't) made and what these announcements mean for the cooling industry and climate action in general.
A lot of pressure was placed on this year's COP, and rightly so. Pre-COP commitments – as included in countries' Nationally Determined Contributions (NDCs) – had set us on a path to a global temperature rise of 2.7°C by the end of the century, which is well over the internationally-agreed limit of 1.5°C and will result in catastrophic impacts around the world. In order to ensure that we put ourselves on the right track, we needed to see greater ambition from countries, cities, businesses, and other stakeholders.
Ahead of COP26, we set out a somewhat ambitious (albeit reasonable) 'to do' list for cooling stakeholders, which detailed what commitments we hoped to see being made at the conference in Glasgow. Desired actions included adopting more stringent minimum energy performance standards (MEPS); ratifying the Kigali Amendment; developing cooling action plans (national and local); doubling down on the energy efficiency of buildings and products; adopting better urban planning; joining the Race to Zero; and boosting investment in research and development, as well as cooling initiatives.
With this year's COP now behind us, what commitments were made, what is missing, and what does it mean for both the cooling community and the world as a whole?
Cooling at (and around) COP26
The two weeks of COP26 went by in a flash. Each day came with new commitments that covered a range of topics, including deforestation, methane emissions, finance, and coal to name a few. In addition to these advances, the Glasgow Climate Pact also includes plans to revisit emissions-cutting pledges (e.g. NDCs or national long-term strategies) next year to try to keep the 1.5°C target reachable.
A number of cooling-specific announcements were made throughout the conference. And while they may not have made the frontpages, they mark significant progress in our fight against climate change.
At the national level:
At the city level:
The Cool Coalition, in partnership with RMI, the Global Covenant of Mayors, Mission Innovation, and the Clean Cooling Collaborative launched its Sustainable Cooling Handbook for Cities. So far 16 cities have committed to use the handbook.
Seville, Spain announced plans to name and rank heat waves.
Athens, Greece announced plans to categorize heat waves from summer 2022.
Miami-Dade County in the United States announced plans to declare a 'heat season' (May 1 until October 31) from 2022, offering shelter space and focusing on vulnerable populations. They will also offer an extreme heat toolkit, run public awareness campaigns, and include heat as a key part of the county's disaster planning
Over 1,049 cities have committed to the Race to Zero. This represents some 722 million people and 1.4 gigatons of CO2 each year. Most cities' commitments include creating resilient and renewable energy systems, developing net-zero carbon buildings, and making food systems more sustainable – all of which would require action on cooling.
From the private sector:
COP26 also provided a stage for this year's Ashden Awards, where Mahila Housing SEWA Trust won the award for Cooling in Informal Settlements (sponsored by ourselves and ClimateWorks Foundation) and Solar Freeze Ltd won the award for Humanitarian Energy.
A number of other cooling commitments were made in the run up to COP26, setting the stage nicely for others to take similar steps. Highlights include committing to bring super-efficient air conditioners to market, developing national cooling action plans, mapping pathways to sustainable cooling, and committing sizable amounts of funding to support clean cooling globally. The Cool Coalition's Cooling Commitments Compass (see below) gives an overview of recent announcements and updates from around the world of cooling.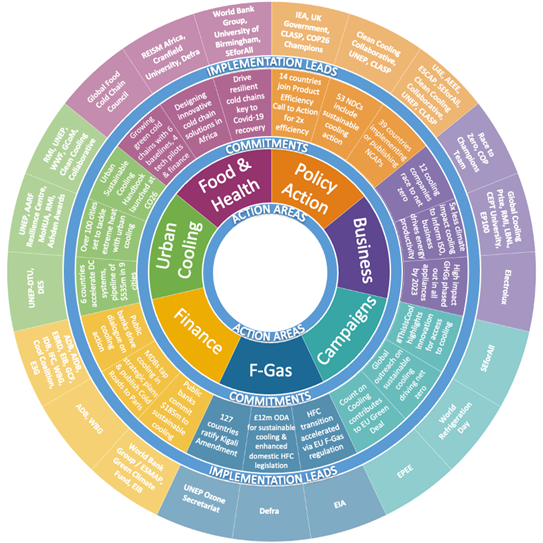 Moving beyond COP26: what next?
Looking over the list of recent pledges, we are encouraged and optimistic that we're on the right path, but we can't stop there. More ambitious commitments and timely action is needed to secure the change necessary to reduce cooling's climate impact and limit global warming to 1.5°C. So what do we want to see in 2022?
One major opportunity is for governments to commit to efficient, climate-friendly cooling in their revised NDCs or long-term strategies in 2022 as part of the Glasgow Climate Pact's agreement to 'revisit emissions-cutting plans next year'. By adopting clean cooling solutions, governments can simultaneously cut greenhouse gas emissions and help build resilience to our changing climate. Efficient, climate-friendly cooling's mitigation and adaptation potential should not be underestimated. One action that could (and should) be included in a government's strategy is to develop and implement a national cooling action plan, which can be done using the National Cooling Action Plan Methodology from the Cool Coalition and partners.
Another priority is for national governments to double down on improving the energy efficiency of cooling systems by committing to SEAD Initiative's Product Efficiency Call to Action. It's promising to see governments from some key cooling countries (e.g. India and Indonesia) having already endorsed the initiative, while other nations (e.g. the US, China, and the EU) are yet to demonstrate their commitment. We're calling on all G20 members to have answered SEAD's call to action by COP27 in Egypt. Other stakeholders can take similar action through joining EP100.
In support of national action (or absence thereof), cities and regions can show leadership in this sphere by using the guidance set out in the Sustainable Cooling Handbook for Cities to help cut emissions and build resilience. They can also join international action networks like the Race to Zero and Cool Coalition. Similarly, cities can follow Seville, Athens, Miami, and Freetown in their efforts to raise awareness of and protect residents from the dangers of extreme heat.
A major component of unlocking future progress is finance. Funding the clean cooling transition will require sizable investment from public, private, and philanthropic sources. The recent financial commitment from the Green Climate Fund (via the World Bank) is a great starting point, and demonstrates the importance of funding for efficient, climate-friendly cooling. To draw further attention to the need for more finance, the Cool Coalition is aiming to form a Working Group on Finance among their members in 2022, building on the Multilateral Development Bank Working Group that was co-convened with E3G and bank champions  in 2021.
The key message we want to deliver is one of optimism. We are encouraged by the announcements made at COP26 and to see the range of stakeholders that are taking action to support the global transition to efficient, climate-friendly cooling. Unfortunately, the commitments being made aren't enough to ensure net-zero cooling by 2050. We need to go further and go faster. We need all stakeholders – particularly those in regions where cooling demand and emissions are on a steep growth trajectory i.e., the US, China, India, and Southeast Asia – to make and follow through on ambitious commitments. We need to double down on the energy efficiency of cooling systems; we need to transition to refrigerants with ultra-low global warming potential; and we need to adopt passive cooling techniques that reduce the need for mechanical cooling (while also building resilience to heat). To protect people and the planet, we need action now.
Published December 14, 2021