All resources
Cooling down the U.S. with maximum heat pump adoption
Cooling down the U.S. with maximum heat pump adoption
Around the world, we're seeing an increase in the frequency and intensity of heat waves, even in parts of the world that we mostly associate with cool or cold temperatures. Our warming planet is requiring us to adapt to these new realities, while needing us to take steps to more aggressively curb GHG emissions and limit global warming.
Access to cooling is becoming more necessary each summer, so while air conditioners are an appropriate tool for many parts of the world, there are regions that could instead get double benefits by installing two-way heat pump technologies.
Heat pumps can efficiently cool a space, in addition to being able to efficiently heat that space during the winter season. This dual-function system enables people to have access to cooling while simultaneously making it possible to replace highly-polluting fossil fuel-based heating furnaces.  
So, what exactly is a heat pump?
Heat pumps are a leading alternative clean cooling and heating technology that are classified by their source (e.g., ground, water, or air) and their transfer medium (e.g., water/hydronic, air, or refrigerants). Common residential heat pump systems are either ducted heat pumps (similar to the furnaces and air conditioners shown below) or ductless — also known as mini splits or multi splits. Ducted and ductless heat pumps are similar to the split air conditioner design with an outdoor condensing unit and an indoor air handler unit or units with an evaporator coil. In addition to having high efficiency, the heat pump also has a reversing valve, which allows it to switch the operation of the system from removing heat from the home to the outdoors (essentially cooling the space), to capturing heat from the outdoors and transferring it indoors, thereby heating the space. For larger homes or commercial applications, variable-refrigerant-flow (VRF) heat pumps provide increased control by also varying the flow or volume of refrigerant to different zones to better match specific heating or cooling loads in those spaces.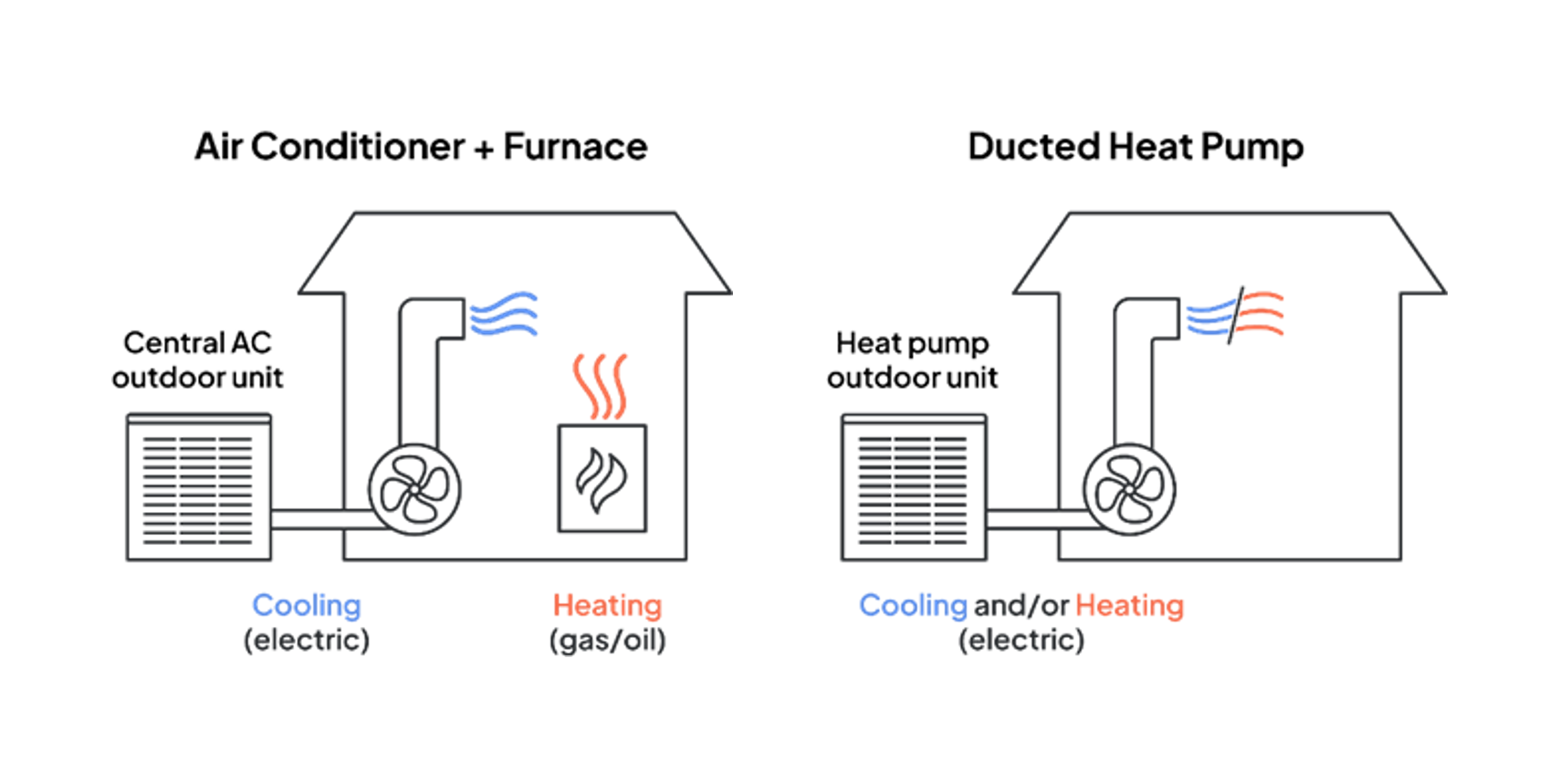 Residential Heating and Cooling System Configurations
A new report from CCC's partners Energy Solutions, VEIC, and Arup looks at the mitigation potential of widespread heat pump deployment in the U.S. and opportunities for accelerating adoption.
While the U.S. has one of the highest rates of installed air conditioners, use in the northern U.S. has been much rarer compared to the U.S. average; though that is beginning to change. In 2020, the Energy Information Administration (EIA) projections for 2050 pointed to air conditioning as the end use with the largest projected increases in energy consumption. As temperatures continue to rise, increasing warmth will alter both heating and cooling activity, leaving greenhouse gas emissions from the built environment almost unchanged, hindering the fight against climate change.
The expected temperature increase varies across climate zones, with certain Climate Zones (e.g., 5B) seeing more than a month's worth of additional extreme heat (days over 90°F), while extreme cold (hours below 5°F) drops in all of the Cool, Cold and Very Cold Zones.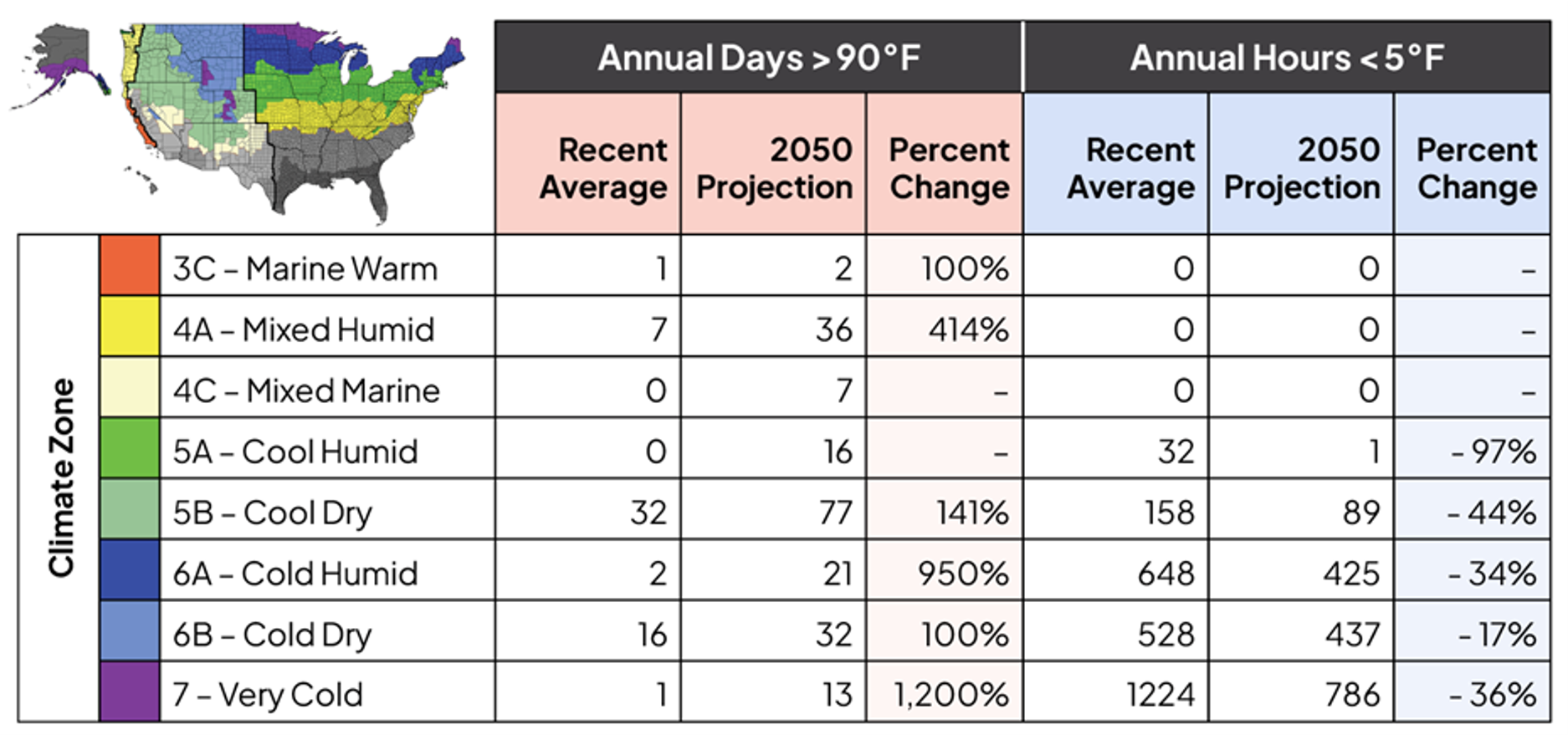 To keep the global temperature rise to below 1.5°C, we need proactive, rapid adoption of high-performing technologies to address both cooling and heating, particularly in these regions that will be adding new cooling to existing heating infrastructure.
Fortunately, in both the residential and commercial sectors, current technology of dual purpose, variable-speed and variable-refrigerant-flow heat pumps offer an opportunity to significantly reduce GHG emissions by 36-47%, based on national average 2019 grid emissions factors.
Across four major building types for which heat pumps' emissions mitigation potential was analyzed (medium offices, strip malls, mid-rise apartments, and single-family homes), single-speed heat pumps could deliver GHG emissions reductions of 87% compared to typical HVAC systems (with an 80% renewable electric grid, which is a scenario we could exceed by 2050). Variable-speed and VRF heat pumps perform even better, yielding a 92% reduction. In both of these scenarios, weatherization and enhanced building efficiency have the potential to reduce emissions by an additional 2%.
Decarbonizing the grid is critically important to reaching these deep levels of emissions reductions, but even with 2019 grid emissions factors, high-efficiency heat pumps deliver reductions against the business-as-usual scenario.
Heat pump adoption in residential new construction has grown in recent years due to the realized benefits of a single versus two-system installation (i.e., one heat pump instead of both an air conditioner and furnace or boiler), building code requirements that encourage all-electric buildings, and the non-energy benefits (such as air quality) afforded by these systems. New construction can also take advantage of economies of scale by ordering large numbers of units at once. In existing buildings, aging systems are typically replaced upon failure and first-time purchases are made in emergency situations, so opportunities for heat pump conversions are limited by several factors: distributor stocking, contractor proficiency, upfront costs, and existing site design. All of these can present barriers to heat pump adoption.
Aiding consumers and businesses toward efficient, dual-purpose system selection is critical to greenhouse gas mitigation. And investments in technology improvements in areas of cold climate performance, lower global warming potential refrigerants, and grid integration capabilities will bring additional benefits. Our new report identifies 30 actionable policy and programmatic solutions to address today's technology, affordability and industry barriers, and identifies ways to maximize the adoption of variable-speed and variable-refrigerant-flow heat pump systems.
Explore the report, Cooling Down the US with Maximum Heat Pump Adoption to learn more.