All resources
From blind spot to hotspot: Accelerating the transition to sustainable cooling for all
From blind spot to hotspot: Accelerating the transition to sustainable cooling for all
Energy-efficient, climate-friendly, and affordable cooling solutions can provide huge opportunities to reduce energy consumption and GHG emissions while ensuring that everyone has access to the cooling they need.
It's been said many times before that cooling is the blind spot of the global energy and climate agendas. And while the topic is increasingly recognized as an important part of the debate – both in terms of mitigation and adaptation – it's not yet the 'hotspot' of international commitment and action that it needs to be.
Last week, at the Global Clean Energy Action Forum in Pittsburgh, Pennsylvania, stakeholders from around the world came together for a side event to discuss just that; how can we accelerate the global transition to sustainable cooling from blind spot to hotspot?
Why does sustainable cooling matter?
Due to rising global temperatures, urbanization, and incomes, the adoption rate of air conditioning is expected to rise sharply over the coming decades. In fact, an additional 3 billion new air conditioning units are expected to be installed around the world by 2050.
Cooling already accounts for more than 7% of global GHG emissions and if we don't act, the sector's emissions are likely to double by mid-century.
In order to minimize these emissions while also making sure that everyone has access to the cooling they need, we must get cooling right. And by 'right', we mean solutions that are as energy efficient as possible, use climate-friendly refrigerants, and are flexible enough to avoid overloading the power grid.
Global action against global warming
At the cooling side event in Pittsburgh, I had the privilege of welcoming to the stage U.S. Special Presidential Envoy for Climate, John Kerry, who played an instrumental role in the negotiation of the Kigali Amendment to the Montreal Protocol (which aims to phase down the use of super-polluting hydrofluorocarbon refrigerants). His presence at the event was particularly timely given the United States' recent ratification of the international agreement.
During his remarks, Secretary Kerry emphasized the importance of cooling, noting that this event was as vital a meeting as was taking place at the forum due to the "staggering" growth in energy demand for cooling and the significant impact that cooling has on people's lives.
I couldn't agree more.
In addition to Secretary Kerry, the stage played host to a number of key cooling stakeholders from across government, finance, industry, and non-profit sectors.
Panelists stressed the need for holistic solutions and to bring passive cooling techniques (e.g., cool roofs, urban greening, efficient buildings, etc.) and mechanical technologies (e.g., air conditioners, two-way heat pumps, ceiling fans, etc.) together to ensure global cooling needs are met sustainably.
And to have a meaningful impact, we also need coordinated efforts across all workstreams – be it policy, finance, innovation, or education/outreach.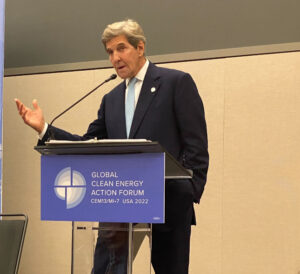 Policy
As highlighted by both Jennie Dodson of Mission Innovation and Kathy Baughman McLeod from Arsht-Rock, to work effectively, we must have a clear idea of what action is needed and where. Through developing national plans (like National Cooling Action Plans) and conducting mapping activities, we can get a better understanding of the needs of different communities, which in turn can help stakeholders identify the most appropriate solutions for said communities.
Minimum Energy Performance Standards (MEPS) were also frequently discussed, with Secretary Kerry even mentioning the possibility of developing a global energy standard. In doing so, not only could this remove the least efficient appliances from the global market, but it could also stimulate and incentivize innovation among manufacturers. While some 80 countries already have MEPS in place for ACs, and an additional 20 countries have standards in development, Kerry wants this number to reach 200.
Policies around building codes and urban planning could simultaneously tackle energy use and boost resilience by ensuring that our cities and buildings are naturally cool (without the need for continuous air conditioning).
Finance
All participants touched on the issue of financing and the need to ensure that investments go further and faster to support innovation.

According to Selçuk Tanatar of the International Finance Corporation (IFC), not only is finance necessary to support innovation and the development of new technologies, but it's also needed to help scale up the adoption of existing solutions, of which there are many!
This is particularly true for the food cold chain, where cooling costs are extremely high and farmers often lack the capital to purchase the equipment needed to preserve their crops long enough to reach the market.
Another way of tackling these high costs is to improve the efficiency of cold chain equipment to optimize resource use. According to Mr. Abhay Bakre, this is a major focus of India's Bureau of Energy Efficiency (where he is the Director General).
Innovation
At the center of this debate was innovation, and as perfectly put by Johnson Controls' Katy McGinty, "the climate crisis demands that we all reinvent ourselves."

Generally speaking, we have the technologies necessary to tackle the cooling challenge, but scaling up these solutions and making sure that they are accessible and affordable to those who need them is what's lacking. This is where finance and policy come into play, supporting both the supply side and the demand side.
A perfect example of this is the 5X AC, a game-changing technology that would have five times lower climate impact (5X) than conventional ACs sold today. Under the global cooling prize, several manufacturers developed prototypes that proved such performance was possible.  During this session, I pointed out the need to make sure innovative products like these become a reality and start flying off the shelves as soon as possible. This will take a combination of education, bulk procurement, and financing.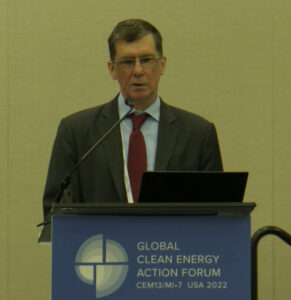 Education
Another piece of the puzzle is education.
It's vital that we continue to ensure that stakeholders around the world truly understand what is at stake when it comes to the cooling challenge.
I wholeheartedly agree with UNEP's Mark Radka when he said that he can think of no topic more important to the climate agenda than cooling.
As we move toward this year's COP27 in Egypt and then on to COP28 next year in the United Arab Emirates, we all agreed that we need to come to the table with some compelling targets for stakeholders to commit to year-on-year. In fact, Dane McQueen, Director of Programs and Partnerships at COP28, and his team will be working closely with the Cool Coalition and other groups to look into what these targets could be, for example, sustainable procurement, investment in innovation, or performance standards. There will be a formal launch of the COP28 presidency in January 2023, so keep an eye out for updates!
Plus, what better setting for the next two COPs than the Middle East to draw attention to the cooling challenge, where temperatures can reach as high as 50° C (122° F)?
A big thank you to the government of India, UNEP, the Cool Coalition, and Mission Innovation (among others) for organizing the Global Clean Energy Action Forum side event, which can be watched in full here.
Published September 28, 2022